Gluten Free Matcha Black Sesame Mads
Posted by Sanne Vloet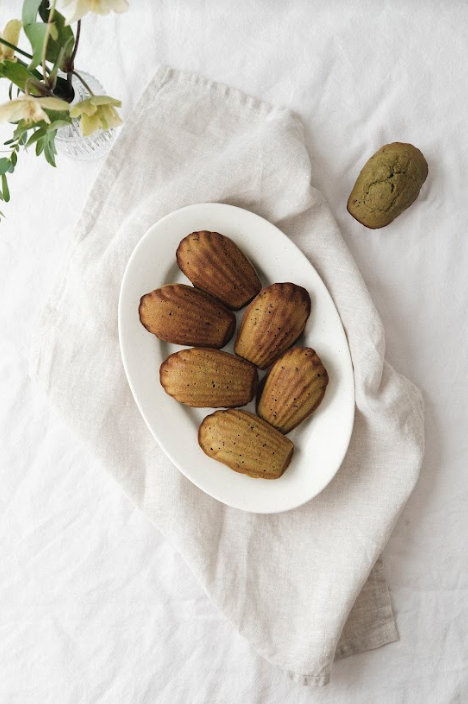 Gluten Free Matcha Black Sesame Mads
Gluten Free Matcha Black Sesame Mads
Easy little spongy cakes that are gluten-free, refined sugar free and can easily be made dairy-free. If you don't have Madeleine pan, double the recipe and bake them in a muffin tin.
Makes 6 deep pan or 12 shallow pan cakes.
Ingredients:
35g almond flour

50g buckwheat flour (or replace with all-purpose GF flour)

1/4 tsp baking powder

1 tsp black sesame seeds + more for garnish

3-4g Nekohama Matcha

1/4 tsp salt

1 large egg

1 tsp vanilla extract

45g coconut sugar, powdered

95g plain (vegan) greek yogurt

30g unsalted (plant based) butter

melted Nekohama matcha chocolate for coating.
Method:
1. Whiz coconut sugar in a coffee/spice grinder. Melt butter and set aside to cool.
2. In a large bowl, mix the flours, baking powder, salt, black sesame seeds and matcha.
3. In another bowl, beat an egg with coconut sugar with a whisk until sugar is mostly dissolved and the mixture looks frothy.
4. Add yogurt and mix until there're no lumps.
5. Add dry mixture and mix just until combined. Add butter and mix well. Refrigerate for 2 hours.
6. Preheat oven to 210C (410 F). Divide the batter between molds using spoons or pastry bag. Bake at 210 (410F) for 4 mins, then lower the temperature to 190 C (375 F) and bake for another 7-10 mins or until mads are set in the center. Allow to cool completely.
7. Melt Nekohama chocolate. Dip one end of each mad into chocolate, sprinkle some sesame seeds and enjoy!
These are best the same day they're made, but will last for up to 5 days at room temp.